Audio and Video Applications
SHAKTI STONE AIR
The new improved SHAKTI STONE is designated with an embossed word, AIR, on the top. This is the first modification to the Stone in over 20 years. It contains new, additional circuit material that absorbs even more distortion. AIR stands for Active Intermodulation Reduction. Beta testers have universally praised its even more audible benefits when placed on components. Recent customer testimonials have compared this new version's level of audible improvement to tweaks, including expensive line conditioners and esoteric quantum devices, that cost many times more. The Stone's proven capacity to reduce EMI is much greater, giving the listener a cleaner, more musically accurate playback of his recordings.
SHAKTI ON-LINES AIR
The new improved Shakti On-Lines are designated with an embossed word, AIR, on the side. This is the first modification to the On-Lines in over 20 years and the improvement had to be significant to go forward with this change. It contains new, additional circuit material that absorbs even more parasitic oscillations. AIR stands for Active Intermodulation Reduction. Beta testers have universally praised its dramatically more audible benefits when placed on cables and components.
The On-Lines proven capacity to reduce EMI is much greater with this "AIR" version, giving the listener a cleaner, more
accurate playback of recordings. Recent customer testimonials have compared this new version's level of audible improvement to tweaks, including expensive AC cords, that cost upwards of $1000 and yet we have managed to keep the price the same at $99 per pair. No matter what level of cabling or component, from the least to the most expensive, the addition of On-Lines will take them to a much more musically accurate level because distortion is reduced.
Available Now! The Hallograph
Photo Gallery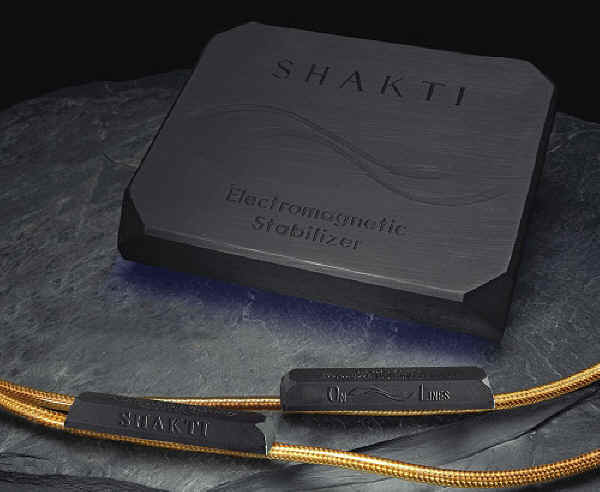 SHAKTI's ground zero technology increases the resolution of audio and video systems!
SHAKTI Noise Reduction Technology (NRT) absorbs and dissipates Electromagnetic Interference (EMI). Automotive Computers (ECUs) and audio/video components self generate a radiated EMI field that degrades signal transfer functions. The word SHAKTI means "energy." Through an energy conversion, inductive coupling process, the "antenna-like" circuits within SHAKTI attract and then resistively convert EMI to non-interfering heat. This increases horsepower and speeds up 0 to 60 times in automotive engines and improves resolution in high definition audio/video systems. No electrical connection is required because all interactions take place through radiated field mutual coupling. One need only place SHAKTI units in near proximity to the CPU or audio component to obtain discernible performance improvements.
Validation of SHAKTI's benefits comes from a variety of objective tests in both the automotive and audio worlds. Evaluation, using Dyno Jet Research automotive dynamometers have measured increases of approximately three horsepower at the rear wheels of a variety of cars. The horsepower gain is a direct result of SHAKTI's attenuation of EMI in the ECU. This allows the complex network to more accurately perform the analysis modern car computers are called on to do to optimize engine ignition timing and electronic fuel injection. In addition even more sophisticated tests have been run on the state of the art $100,000 Mustang Dyno. When one On-Line was placed on each of the 8 individual coils of a Chevy Tahoe, it showed a remarkable improvement of almost four tenths of a second in its 0 to 60 time. Changes of this magnitude usually cost several thousand dollars in engine modifications, not the $400 cost for 8 On-Lines. This parallels resolution improvements in analog and digital audio components when SHAKTI units are placed near power supplies, DAC chips, capacitors and system wiring. Traditional EMI tests were conducted at Compatible Labs in Agoura, California, which verified SHAKTI's absorption of radiated noise fields. The worldwide use of SHAKTI in consumer and professional applications such as Pink Floyd's Astoria Studio, is further testament to its benefits. Patent # 5,814,761
The Shakti Electromagnetic Stabilizer
The SHAKTI Electromagnetic Stabilizer (aka "the Stone") has three internal trap circuits (Microwave, RF and Electric Field) to absorb the broadest spectrum of EMI. Placement on automotive CPUs has measurably increased engine horsepower. It also improves resolution for virtually all-major components in high definition audio/video systems. Music reproduction is clearer, with more liquidity,
dynamics and focus. The improved inter-transient silence allows the listener to hear ambient cue information essential for accurate perception of stage depth, width and unwavering imaging. High quality video systems will benefit from SHAKTI devices near power supplies, projection guns and laser disc/DVD players. Reduced color noise and improved convergence alignment are some of the improvements that can occur. In automotive applications, where space allows, the unit should be securely taped and/or cable tied to the top of the CPU.
6.5″ L x 5.25″ W x 1.5″ H
On-Lines
SHAKTI On-Lines use a specially engineered circuit adapted from the larger SHAKTI Stabilizer. The On-Lines provide efficient EMI reduction in situations where limited space is a consideration. Placed near automotive CPU's, the On-Lines have demonstrated the same
horsepower improvements as the Stabilizer. In some applications even closer proximity to chips is realized. In audio systems the On-Lines are typically used on all system cables (interconnects, speaker wire, AC cords and video cables). Placement is near the approximate center and/or connection points. In addition many users who build or modify their own equipment are placing On-Lines on or near critical internal circuit parts such as DAC chips, capacitors and internal wiring. Placement in all situations is facilitated by self-adhering Velcro circles that are placed on the cable or component to be treated. The On-Lines have matching Velcro on them that allows easy attachment or removal. 3″ L x 5/8″ W x 3/8″ H
Audio/Video, computer and scientific testing equipment
The same ability to maximize audio performance holds true for all types of electronic equipment. SHAKTI Stones and On-Lines are versatile signal enhancing devices for the 21st century.


Click here to see applications of SHAKTI's products
SHAKTI is used by the following recording and mastering studios:
Pink Floyd's Astoria Studio
Steve Hoffman Mastering
Moment Records
Stan Ricker Mastering
Doug Sax's Mastering Lab
Paul Stubblebine Mastering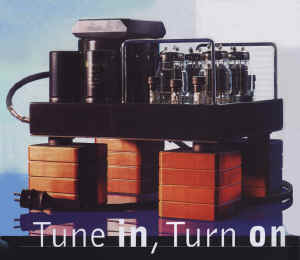 SHAKTI is a recommended component of:
Stereophile Magazine
The Absolute Sound Magazine
SHAKTI is endorsed by the following engineers:
Lew Johnson (Conrad Johnson)
Bill Conrad (Conrad Johnson)
Jochaim Gerhard (Audio Physic)
Steve McCormack (McCormack Audio)
George Cardas (Cardas Audio)
Rod Madnick (Perpetual Technologies)
Stige Bjorge (Scan Tech)
Derrick Fuller (DCS)
Jean Jacques Van Leween (Audio Matiere)
Mike Custer (Sumo Electronics)
Bob Graham (Graham Engineering)
A.J. Conti (BASIS Turntables)
Ted Denny (Synergistic Research)
George Tice (Tice Electronics)
Stephen Ballet (Reflection Audio)
Peter Suchy (Clearaudio)
Jeff Combs (James Loudspeakers)
A. Taguchi (JVC Music)
Bascom King (Bascom King Designs)
Tom Campagno (Quintessence Acoustics)
Ron Hedrich (Marigo)
Gene Dubois (MacIntosh Car Audio)
Steve Little (Center Stage Loudspeakers)
Steve Klein (Sounds of Silence)
Bill Hamilton (Hamilton Audio Loudspeakers)
Michael Kochman (Echo Busters)
Bill Stierhout (Quantum Technologies)
Ram Ghoshal (Moment Records)
Steve Hoffman (DCC)
Stan Ricker (Stan Ricker Mastering)
Doug Sax (The Mastering Lab)
Paul Stubblebine (Stubblebine Mastering)
Phil Taylor (Pink Floyd's Astoria Studio)
James Guthrie (Pink Floyd Recordings)
Gary Garfield (Musical Fidelity Disc Solution)
Original equipment manufacturers using SHAKTI Technology in their products:
Audio Magic uses SHAKTI Technology in their Clairvoyant Line of cables and their Stealth Power Purifiers. Contact them at (303) 319 – 1814 or at:
http://www.audio-magic.com
The following reviewers endorse SHAKTI:
Harry Pearson (TAS)
Jonathan Valin (TAS)
Clark Johnsen (Positive Feedback)
Ken Kessler (HiFi News and Record Review)
Bascom King (Audio)
Martin Colloms (Stereophile)
Robert Deutch (Stereophile)
David Robinson (Positive Feedback)
Clay Swartz (Positive Feedback)
Franco Vitaliano (TAS)
Bill Brassington (fi)
Wes Phillips (SoundStage)
Jonathan Scull (Stereophile)
Chip Stern (Stereophile)
Lars Fredel (Ultimate Audio)
Miles Astor (Ultimate Audio)
Jim Merod (Jazz Times)
Frank Doris (TAS)
Steven Stone (Stereophile)
Sam Tellig (Stereophile)
Mark Bucksath (TAS)
Dick Olsher (enjoythemusic)
Barry Willis (Stereophile)
Larry Kaye (fi)
Michael Gindi (fi, Ultimate Audio)
Larry Brotzen (Audio Mexico)
Wayne Donnelly (fi)
Shannon Dickson (Stereophile)
Michael Fremer (Stereophile)
Clement Perry (StereoTimes)
Bill Wells (Audiophile Voice)
Dave Clark (Positive Feedback)
Uve Kirbach (Audio Germany)
Wing Cheung (Audio Hong Kong)
Stephen Yan (AudioVideo Singapore)
Full positive reviews have appeared in the USA, England, France, Italy, Germany, Hong Kong, Japan, Singapore, and Hungary.
Warranty
In addition to a 30-day money back guarantee, all SHAKTI products are covered by a 5-year warranty against manufacturing defects. They should last a lifetime under normal conditions and can be easily transferred to future components you may own.